A spacious, three-bedroom three-bathroom villa arranged on three floors with a 12x6m pool, set in over three acres of land, including an olive grove and some pine trees. Sleeps 6-8 very comfortably.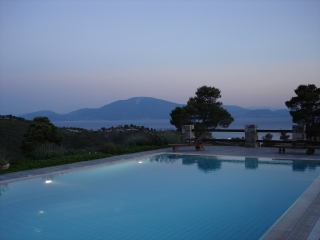 The top floor consists of a double bedroom and en-suite bathroom with verandas facing towards the sea (front) and towards the mountain (rear). The upper ground floor is the main living space, consisting of a large, open-plan living room, kitchen and dining room and features an open fireplace. A large veranda overlooks the swimming pool. The lower ground floor comprises two bedrooms (one double, one twin) with en-suite bathrooms, and a living room cum bar opening out on to the swimming pool, which can accommodate two further people on a sofa bed. The living quarters extend across 160m2.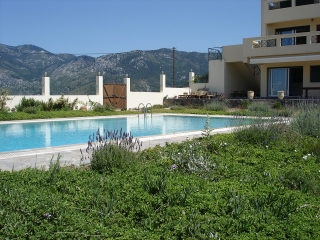 Local materials have been used in the construction wherever possible. For example, the stone for the floors was sourced from local quarries, as was all the marble, and the traditional clay roof canal tiles are made in Evia. Lavender, rosemary and roses have been planted around the pool, and the villa is surrounded by young apricot, almond, peach and other saplings.
The villa offers a rural and peaceful setting with spectacular views of the sea to the front and of a mountain range behind (Mt Candili reaches 1250m). The villa faces south-west, offering wonderful sunset views all year round. It is just 800m from the nearest (pebbly) beach (15 minutes on foot), and 3km from the nearest village, Nerotrivia, which boasts an excellent taverna (which doubles as a butcher's by day), a bakery and a small supermarket. The delightful beach of Dafni is a 15 minute drive away, and features a taverna, set in the pine trees, overlooking the beach. The villa is fully air-conditioned. Car hire is essential.
House and pool cleaning is provided, as is linen and a welcome pack. Information about Evia, activities and the villa is provided and at least one of the owners is always available for assistance and advice.
Facilities include:
Wi-fi, TV, CD player, DVD, barbeque, dishwasher, washing machine, air conditioning, small library.