'The main attraction of Evia is its fine scenery', Baedeker's Greece 1894
'The scenery of Evia is perhaps the most beautiful in Greece', Encyclopedia Britannica 11th Edition
Evia, with a length of 175km, is the second largest Greek island, after Crete, but is relatively unspoilt by tourism. Package tourism has been discouraged by the absence of an airport, and so most tourism is domestic, consisting of weekending Athenians. The northern half of the island is very green and lush, the southern half more barren, beginning to resemble the Cycladic islands. The middle is dominated by the Mt Dirfys range (reaching 1750m), offering spectacular views and pleasant trekking in pine and chestnut forests. There are fine beaches on both the western side as well as the eastern side, which looks to the Aegean. The island offers many activities that can keep even the most adventurous busy.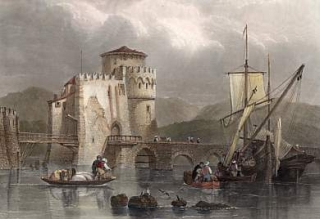 History
Evia (also known as Euboea) has a rich history, going back to paleolithic times. In the 8th and 7th centuries BCE, the two (rival) towns of Halkida and Eretria prospered and colonized much of Sicily and Southern Italy (Magna Graecia) and Northern Greece (Halkidiki). In the 6th century BCE, Evia fell under Athenian domination, and subsequently Macedonian. Much later it was subdued by the Romans. With the sacking of Constantinople by the Fourth Crusade in 1204, the ports of Evia were transferred to the Venetians, who came to dominate the whole island in 1366, giving Evia (and Halkida) the name Negroponte. The Ottomans took over the island in 1470, which they held until 1833 when Evia became part of a newly independent Greece. In the 1920's Evia received many Greek refugees from Asia Minor, expelled by the Turks.
People
Evia has been associated with many distinguished people over the ages. Aristotle died in Halkida, whilst staying at his mother's house there. George Papanikolaou, the inventor of the Pap Test, was born in Evia (Kymi). One of Greece's most famous rebetiko singers, Sotiria Bellou, came from Evia. The Noel-Bakers, relatives of Lord Byron, have had a substantial estate in Evia since Greece's independence. Philip Sherrard, the writer, lived for many years in Limni. The Greek composer Nikos Skalkottas was born in Halkida, and the British composer John Tavener kept a house in Evia.