For those who want to do more than just swim and sunbathe, and enjoy the clean air and fabulous views, there are many alternative activities on offer, all year round.
Plenty of uncrowded beaches with crystal clear waters are in the vicinity, and there are numerous walks possible in the nearby mountain ranges. Thebes, the Byzantine monastery of Osios Loukas, and Delphi can all easily be reached on a day trip by car, and Athens is also accessible by car as well as public transport from Halkida (a little over an hour by bus or train). The northern half of the island Evia (the whole island is approx. 175km in length) offers very pretty scenic routes through mountains and fertile plains.
In winter the ski resort of Mount Parnassos (2455m), which is visible from the villa on a clear day, is a popular destination. Visitors in late November or December can participate in the olive harvest, when the Greek countryside fills with people collecting olives.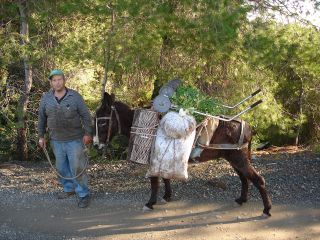 Taking the olive harvest to the press, using traditional transport
Politika, a 10 minute drive away, is the closest town. It offers a long beach, tavernas, a medieval tower and an 11th century monastery, as well as small supermarkets, shops and a town square.
The fishing port of Nea Artaki is only 20 minutesí drive away, with its picturesque sea-front ouzeries serving local seafood specialities (mezedes). The gulf of Evia is generally acknowledged by Greeks to offer some of the best sea food and fish in all of Greece, and at the ouzeries it is possible to eat fresh local specialities such as octopus, calamari and squid, shellfish and a variety of fish.
The pleasantly located capital of Evia, Halkida, is only 30 minutes away and offers much to see including a 17th century Ottoman fortress, a 10th century Christian Church, a Synagogue (there has been a Jewish community in Halkida for over 2,000 years), an Ottoman mosque, a rare tidal phenomenon (which had even Aristotle perplexed) and some pleasant water-front cafes and tavernas. Across the bay from Halkida is Aulis, where Agamemnon sacrificed his daughter Iphigenia in order to secure fair winds before sailing on to Troy. According to Strabo and Pliny, an ancient spring of Arethousa was located near Halkida.
The village of Prokopi, about an hour away by car, being home to the relics of St John the Russian, is one of Greek Orthodoxy's foremost pilgrimage sites as well as home to the Noel-Bakers, owners of a substantial estate in the area since the 1830's.
Mt Dirfys, Evia's highest mountain, with its wonderful views and scenery, is less than an hour away by car. Nearby is the Agali Gorge, which can be walked in two hours. There is also much wildlife to be explored in Evia, including birds of prey.
For those who prefer to be with the action, the long and popular sandy beach of Alikes near Halkida offers water sports in its shallow turqouise-coloured waters by day, and bustling clubs, bars, and restaurants by night.
Last, but certainly not least, there are numerous archaeological sites and museums in the area; click here for more information.